If you're like me, then you dread filing your taxes in the face of the looming April 15th deadline.  It conjures up thoughts of going through endless receipts, spending hours going through yearly expenses and W2s to reconcile everything for Uncle Sam.
Well, there's an app for that!  Enter Turbo Tax Snap Tax.
Got some time to kill?  Live in California?  This app will take you step by step through the process of filing your taxes, all on your iPhone.
How does it work?  Here are a few screenshots that walk you through the process:
1. Snap a photo of your 2009 W-2 with your iPhone: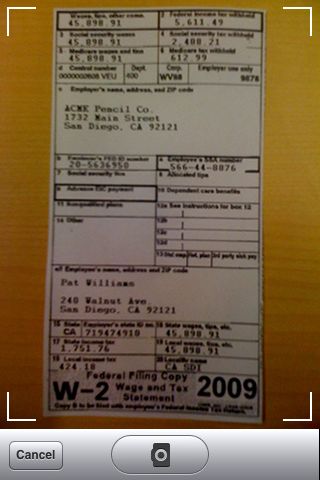 2. Get your maximum refund by answering a few simple questions:
3. Review your tax information, then e-file – all within a matter on minutes: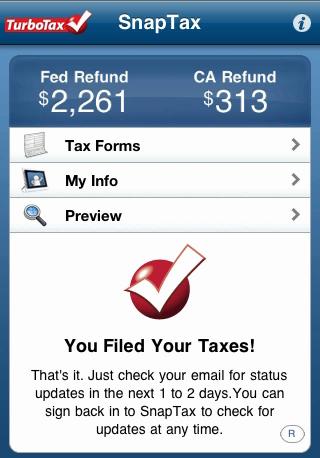 Want more?  Check out the video:
SnapTax is available in the App Store for $9.99, which includes federal and California state preparation and e-file.   To get the most out of SnapTax's innovative OCR capabilities, it's best if you use it with the iPhone 3GS, still the 3G version is fine too.
If you're a California resident then this is a super easy way to file your taxes quickly if you have a simple return.  Snaptax works with 1040A and 1040EZ.
For those of us who file online using TurboTax.com I have two Turbo Tax Deluxe cards to give away this week, just leave a comment telling us what you think about SnapTax!
**FTC Disclaimer:  Please note that Turbo Tax sponsored this give away